Why winter weather can be deadly and safety steps you need to take.
Read More »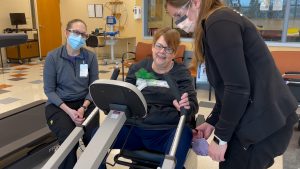 Pattie Butler survived a serious spine injury. Hear her story and how the medical staff at NMC Health worked to save her.
Read More ›
Help others on their health journey by sharing your story with us. Whether you're a patient or a family member, we would love to hear about your outstanding experiences at NMC Health.
Was there an employee who went above and beyond to give you outstanding care and make you feel cared for or safe? We'd love for you to share your story with us!
Fill out the form below and let us know a little bit about your experience. Someone from our marketing department will email you to set up a time for an on-camera interview or blog opportunity. We will use your story on our social media pages and website.
We look forward to hearing about your wonderful experience and using your testimony to show others what it's like to be cared for at NMC Health – where your health is our focus. 
Read More NMC Health Stories
Learn about the latest events, advancements and accomplishments at NMC Health