Randy Linton was waking up at night with pain in his knees. Pain so severe, it wasn't manageable with over-the-counter medicines.
We had a chance to speak with Randy about his experience at NMC Health. Here's his story: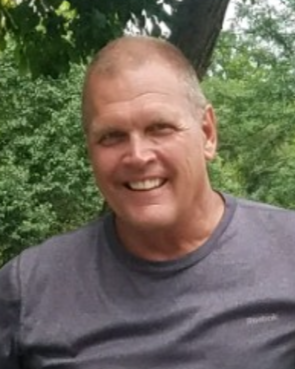 Q. Tell me what led up to you having surgery with Dr. J. Scott Pigg.
A. After years of playing sports and trying to stay active, my knees have been through multiple surgeries (meniscus removal, MCL, ACL tear, cartilage repair…). It got to the point where I had chronic pain in my right knee and the occasional "knee buckle" with a sharp pain without notice in the left knee. I was losing sleep, as I could not get comfortable in bed.
I had a couple of different friends mention that they had gone to see Dr. Pigg for cortisone shots and/or knee surgery. I made the appointment and after looking at x-rays, it was determined that I would eventually need two news knees. We tried a cortisone shot in my right knee and it felt great for about a week. [I] went back to get another shot and Dr. Pigg recommended surgery since the last shot only lasted a week.
Q. Tell me what type of interventions he suggested before surgery (if any), then what type of surgery you had and how the process of that surgery went.
A. He gave me a booklet that mapped out his requirements (in detail) for me two weeks prior to surgery. Everything from leg exercises, proper nutrition, alcohol and tobacco consumption, medication usage, and bathing instructions, as to reduce the chance of infection during surgery.
[I] went into surgery around 11 a.m. on a Tuesday, and [was taken] to my hospital room by around 1:30 p.m. I asked him if I could hurt this new knee by starting my post-surgery exercises he prescribes. I started that afternoon as there was nothing else to do but ice, elevate and medicate.
By Wednesday morning, I walked down to PT with a walker and after practicing the daily routine and getting in and out of a car, a chair, and bed; I walked back to the my room just pushing the walker. While walking back, the physical therapists suggested that I could start using the cane instead of the walker.
My range of motion was close to zero degrees straightening my knee and 110 degrees bending my knee before I left the hospital. I was dismissed from the hospital by noon on Wednesday, and walked from the wheelchair to the car with the cane in my hand. I couldn't believe just had a knee replaced 24 hours ago, and I was walking on it with little pain (assisted by medication). After resting at home for the next three days, I was walking to and from the freezer about every hour and a half to switch ice packs, get something to eat/drink, or to use the restroom. I was doing exercises 3-5 times a day during that time. I took pain meds before bedtime once and then again the morning before I went to PT that Friday at NMC Health Physical Therapy & Rehabilitation. After that, no more prescribed meds, and I was walking around the house without a cane. Anytime I went outside the house, I carried the cane just in case I needed it.
Q. Tell me about any person (or people) you remember that took care of you, how they made you feel and how you felt about their care.
A. The whole transition from registration into the hospital prior to surgery to being dismissed was seamless. The surgical crew, anesthesiologist, and hospital staff that I was involved with were outstanding. They all took the time to explain and/or answer questions that I had. Tiana [Gaines] (Dr. Pigg's assistant) followed up to make sure I didn't have any questions or issues after surgery. Dr. Pigg visited with my wife immediately after surgery to explain how the procedure went, and again followed up the next morning while in the hospital. Angie Rewerts, my physical therapist at NMC Health Physical Therapy & Rehab, did an outstanding job of explaining my recovery routine and had no problem pushing/motivating me to progress in a health fashion.
Q. Tell me about how long it took you to recover.
A. I went in twice a week with Angie at NMC Health Physical Therapy & Rehab for three weeks nd continued to do daily exercises 3-5 times a day. By the end of two weeks, I was only carrying my cane as a precaution. By the end of three weeks, I ditched the cane and was back at work (partial days) at my desk. I was still doing exercises each morning, at lunch, and in the evening. After three weeks, I was able to get back on the stationary bike to continue to work on range of motion and endurance. I was able to work back up to the 20-30 min. rides on a regular basis.
Q. Tell me how long it took to get back on your feet and feel better, how much (if any) pain you have today, and how having this surgery changed your life.
A. When I woke up from surgery I remember thinking it was nice to not have that dull ache in my knee. I realize that some of that was the pain meds, but after four days, I had a little pain from the surgery and no more dull ache at all. Six weeks out from surgery, I was walking for 30-40 min. with no pain. Today, I have full range of motion and no pain whatsoever (eight months after surgery) going on walks and/or bike rides for 30-60 mins. To be able to get a full night's sleep without that dull ache in my knee was a game changer. I was able to be active again and not suffer for it.
Q. Tell me why you would recommend NMC Health and Dr. Pigg to others, and what made this experience special.
A. I have been sharing my experience with a number of my friends, and currently had one just go through his first knee replacement with Dr. Pigg. Another close friend will be going in this November for one of two knee replacements with Dr. Pigg. I was sold when I saw the detail he put into his pre-and post-surgery program for his patients, plus the technology used to be precise and exact with the surgical procedure.
At 63 years of age, I am excited to be able to still get out and play golf, bike, walk or swim with my grandkids. I have no hesitation in scheduling my second knee replacement with Dr. Pigg and the NMC Health staff.
If you'd like to book an appointment with Dr. J. Scott Pigg or any of our board-certified orthopedic surgeons, call NMC Health Orthopedics & Sports Specialists at (316) 283-9977.